Welcome to The Cottage at Paradise Cove. This cottage is the perfect getaway for small families, gathering of close friends and intimate special occasions. With its beautiful outdoor setting of huge, mature trees and the Lake Travis waterfront views, the home fits seamlessly with its stone and wood interior.
As you approach the gate, you will start to feel the great ambiance of this home.
You will be greeted with a beautiful setting of the outdoor space, pool, spa and cottage with the Lake Travis backdrop.

INTERIOR
When you enter the front door you will quickly notice the wood and stone touches, adding a great "lake" feeling. The kitchen, complete with the farm sink, is stocked for your cooking pleasure. Snuggle up in front of the fireplace in the cozy living room. The covered, enclosed patio is a perfect place to dine, have your morning coffee, etc. There are panoramic views of Lake Travis.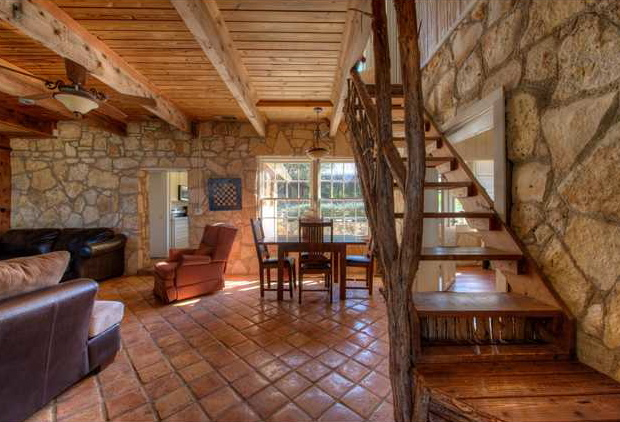 ACCOMMODATIONS
There are 3 comfortable bedrooms with a king bed and 3 queen beds and 2 baths. There is also a sofa bed (full size).
EXTERIOR -- FRONT AND POOLSIDE
The outdoor living space of this home is truly magnificent. It includes a beautiful pool & spa as well as a very large outdoor covered area with kitchen and sitting/dining area.
BACK EXTERIOR--LAKESIDE
Although the front of the home is great, the back of the home is pretty amazing as well. It has a gradual slope down to the lake and is a beautiful setting with the shade of the huge oak trees.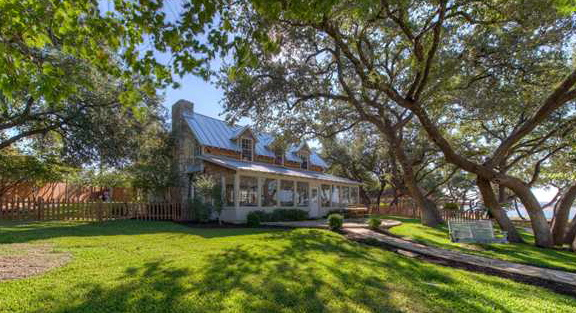 GENERAL DESCRIPTION
The Cottage at Paradise Cove is a 1800 square foot home providing an intimate setting. It has 3 bedrooms, 2 baths, great outdoor living area, pool, spa and is waterfront with a gradual slope to the water.
LOCATION
32.2 miles from Austin Bergstrom International Airport
29.4 miles to E 6th Street
38.1 miles to F-1 Racetrack, Elroy
2 miles to Just For Fun
BEDROOM CONFIGURATION
Master Bedroom: 1 king bed, located upstairs
Bedroom 2: 2 queen beds, located downstairs
Bedroom 3: 1 queen bed, located upstairs
Sofa bed: full size
# OF BATHS
2 (The bedroom upstairs accesses the upstairs bathroom through the master bedroom.)
AMENITIES
Outdoor kitchen with gas grill, pool, spa, free wifi, basic cable.
PROCEDURE FOR RENTING THIS HOME
1) You will send us information needed for us to write a lease agreement
2) We write the lease agreement and email it and a copy of the house rules to you with instructions
3)
If your reservation is more than 30 days away:
Your deposit of 50% of the basic rental amount is due within 10 days along with your signed lease agreement and house rules. The remaining balance is due 30 days before your arrival date.
If your reservation is 30 days away or less: All of the payment (the basic rental amount, tax, cleaning fee and refundable security deposit) is due with the signed lease agreement and house rules.
4) Once we get payment, your reservation is confirmed.
5) When Jacque receives your payment, she will execute the lease agreement and email it to you.
6) You will be sent access information before your arrival.
7) Refundable security deposits are returned the 15th and last day of each month.
RENTAL RATES Check for availability and current rates.
PRICES ARE SUBJECT TO CHANGE AT ANY TIME. PRICES ARE THOSE QUOTED SPECIFICALLY BY RESERVATION MANAGER. PRICES ON WEBSITES SUCH AS VRBO, HOMEAWAY AND
WWW.LAKETRAVISRENTAL.NET
MIGHT NOT BE THE MOST RECENT PRICES.
IMPORTANT INFORMATION
No exceptions to these rules.


ALL INFORMATION ON THIS WEBSITE IS DEEMED ACCURATE AND CORRECT BUT CAN CHANGE AT ANY TIME. PLEASE CALL OR EMAIL FOR THE LATEST INFORMATION.
WHERE IS THE CLOSEST
. . .
GROCERY STORE/SHOPPING
Map to nearby grocery stores
Hudson Bend Grocery 5001 Hudson Bend Road Austin, TX 78734 (512) 266-2923
Speedy Shop 3636 Ranch Road 620 North Austin, TX 78734 512.266.3127 1.2 mi E
Super S 7708 Lohmans Ford Rd, Lago Vista, TX 3.9 mi NW
MARINA
Paradise Cove Marina 17141 Rocky Ridge Rd, Austin, TX 512.266.8006 http://www.paradisecovemarina.net
Emerald Point Marina 5973 Hiline Rd Austin, TX 2.0 miles
http://www.emeraldpointmarina.com
BOAT RENTAL
Just For Fun Emerald Point Marina 5973 Hiline Rd Austin, TX 2.0 miles
http://www.jff.net/
RESTAURANT
Map to nearby restaurants
Hudson's on the Bend 3509 Ranch Road 620 N Austin, TX 512.266.1369 2 miles
Cafe Blue 8714 Lime Creek Rd, Volente, TX 3.4 mi 512.996.8188
Los Pinos Mexican Restaurant 4919 Hudson Bend Rd Austin, TX 1.4 mi SE 512.266.3231
Iguana Grill 2900 Ranch Road 620 N, Austin TX 512.266.8439 2.2 miles S
Hill Country Pasta House 3519 Ranch Road 620 N Austin, TX 2.0 Mi SE 512.266.9445
GOLF COURSE Map to nearby golf courses
University of Texas Golf Club 2200 University Club Dr Austin, TX 5.6 mi SE 512.266.6464
Lago Vista Golf Course 4616 Rimrock Dr Lago Vista, TX 3.8 mi NW 512.267.1170
Falconhead Golf Club 15201 Falcon Head Blvd Austin TX 7.2 mi S 512.402.1558
COFFEE SHOP Map to nearby coffee shops
Java Dive Organic Bistro 1607 Ranch Road 620 Austin, TX 3.0 mi S 512.266.5885
HOSPITAL/MEDICAL Map to medical facilitiesLIQUOR STORE Map to nearby liquor stores

Wisky's Liquor Store 5000 Hudson Bend Rd, Austin, TX 1.3 mi SE 512.266.1003
Twin Liquors 2303 Lakeway Blvd #110 Lakeway, TX 5/8 mi S 512.263.1810
VIDEO STORE Map to video stores including Redbox

WHERE CAN I RENT A BOAT or OTHER WATERCRAFT?
Just For Fun Emerald Point Marina 5973 Hiline Rd Austin, TX 2.0 miles
http://www.jff.net/